The History of
The Ramona Building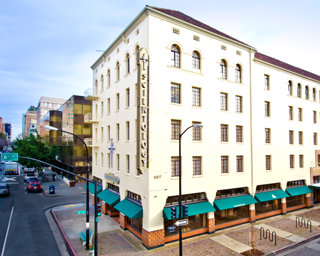 The Ramona Building, now home of the Church of Scientology Sacramento, is listed in the Sacramento Register of Historic and Cultural Resources. The building stands as the city's largest surviving example of original Spanish Colonial Revival architecture, a style that reflects the rich Hispanic and indigenous Native American culture of the Sacramento Valley.
Its conception dates to the 1920s, when Sacramento was at the hub of a transcontinental railroad boom and California's first state architect, George C. Sellon, was commissioned to design a building sufficient to accommodate the huge influx of visitors to the capital city. It opened in 1930 as one of Sacramento's finest hotels, named Ramona in honor of the Native American heroine of the popular novel of the day depicting the struggle to unite the diverse cultures of California.
Moreover, the building is intrinsically linked to Sacramento history for the fact it stands on the city's historic thoroughfare, originally carved and settled by prospectors during the California Gold Rush.
After acquiring the Ramona Building, the Church first conducted a detailed study so that no part of her history was lost in plans for restoration. Consequently, all historic elements of the building's structure, including the characteristic stucco, ornamental glazed brick and terra cotta tiles, decorative iron accents and the original blade sign have been restored to their original glory. Then again, full structural reinforcement was contracted to bring the building into compliance with 21st century seismic codes.
Yet even with the massive scope of the restoration project—in terms of construction, furnishings and accessories—all was planned and executed for minimal environmental impact and maximum sustainability. To that end, all was in accordance with the U.S. Green Building Council's Leadership in Energy and Environmental Design (LEED) gold certification standards.
When the landmark building was dedicated on January 28, 2012, it signified the preservation of a Sacramento treasure for generations to come.